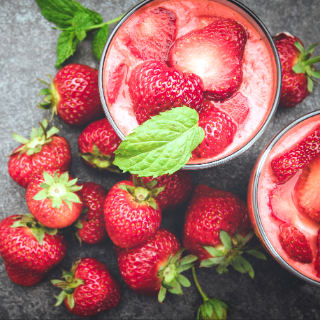 Ingredients
1 Bottle 14 Hands Rosé, Campo Viejo Cava Brut Rosé, Bouchard Aine Rosé de France or 7 Moons Rosé
3 oz Grapefruit juice
8 oz Strawberry simple syrup (recipe below)
2 cups sliced strawberries
Strawberries and mint for garnish
Preparation
Make the Strawberry Simple Syrup. Bring 1 cup of water and 1 cup of sugar to a boil. Stir until clear. Steep sliced strawberries for at least an hour. Strain syrup into a container and store in the fridge.
Pour the rosé, simple syrup and grapefruit juice into a gallon ziplock bag, mix and freeze for at least 6 hours, giving it a few squeezes every hour until almost solid.
When ready to serve, cut one corner of the bag and pipe the now Frosé into a martini or coupe glass and garnish with strawberries and mint.