The Classic Dad
Jim Beam Black is a premium bourbon with a more flavorful character made to be sipped and savored. This premium 86-proof, extra-aged bourbon ages years longer in white oak barrels than original Jim Beam. It's those extra years of aging that give Jim Beam Black its full-bodied flavor with smooth caramel and warm oak notes. Winner of Gold Medal at the 2016 International Spirits Challenge.
Recommended Cocktail: Serve Neat or with 1 large ice cube
The Cool Dad
Crafted by George Clooney and Randy Gerber, this a small batch tequila made from the finest, hand-selected 100% Blue Weber Agaves. The Agave is allowed to mature about 6 years in rich red clay and in the cool climate of the Highlands of Jalisco, Mexico before being harvested and transformed into an ultra-premium tequila. After sipping on Casamigos Blanco you will notice hints of citrus, vanilla and sweet agave with a long smooth finish.
Recommended cocktail: Papa's Paloma
2oz Casamigos Blanco
.5oz Fresh Lime Juice
.25oz Tres Agaves Agave Nectar
Fever Tree Sparkling Pink Grapefruit
Shake Tequila, Lime and Agave. Serve in a half rimmed highball with a mix of salt and chili powder. Top with Fever Tree and garnish with a lime.
The Smooth Dad
Basil Hayden's is the lightest-bodied bourbon whiskey in the family of Jim Beam small batch bourbons produced by Beam Suntory.
It is 80 proof, in contrast with its three sibling brands of higher alcohol concentration (Knob Creek, Booker's, and Baker's)
Recommended Cocktail: Served neat or with 1 cube.
The Tough Dad
Charring is an age-old method for invigorating barrels to intensify the taste. Jameson Black Barrel is tribute to the coopers of Jameson, who painstakingly give their bourbon barrels an additional charring to reveal their untold richness and complexity. Because every barrel contains secrets, the trick is coaxing them out.
Recommended Cocktail: Dad's Old Fashioned
1.5oz Jameson Black Barrel
.5oz Simple Syrup
2 Filthy Black Cherries
½ Orange slice
1-2 dashes Angostura Bitters
Add all ingredients to a tub glass, stir and serve.
The Rebel Dad
A rebel in its own right, the ready to drink SoulBoxer Brandy Old Fashioned breaks tradition by being made of brandy instead of whiskey. Flavored with pure cane sugar, aromatic bitters, Door County cherries, and orange peel, this delicate cocktail remains true to its supper club origins.
Recommended Cocktail: Served over ice with and garnish an orange peel.
The Innovative Dad
Maker's Mark changed the way we think of bourbon, all because one man changed the way he thought about making it. Bill Samuels, Sr., simply wanted a whisky he would enjoy drinking. Never bitter or sharp, Maker's Mark is made with soft red winter wheat, instead of the usual rye, for a one-of-a-kind, full-flavored bourbon that is easy to drink. To ensure consistency, every barrel is rotated by hand and aged to taste, not time. Each bottle of Maker's is still hand-dipped in a signature red wax at the distillery in Loretto, Ky., just like Bill, Sr., would have wanted.
Recommended Cocktail: Peel the wax and enjoy. Makers is special for all occasions.
The Sophisticated Dad
Tanqueray is named after its founder, Charles Tanqueray, who established the brand in 1830. Originally distilled in London, it has been distilled in Fife, Scotland since 1998 at the Cameronbridge Distillery. Their neutral grain spirit (wheat based) is made in house and not purchased, the latter of which is more common practice in gin production. The four known botanicals for the gin are juniper, angelica root, coriander seed, and licorice root.
Recommended Cocktail: The Big Guy's Basil Smash
1.5oz Tanqueray London Dry Gin
1oz lemon juice
.75oz simple
3-5 Basil leaves
Shake and double strain over ice. Garnish with sprig of basil
The Rugged, Outdoorsy Dad
High West Double Rye Barrel Select is a blend of two straight rye whiskeys with ages ranging from 2-7 years. The palate has hints of Rye spice, apple cinnamon, brewed apple cider, and mint.
Recommended Cocktail: Sazerac
2oz High West Double Rye Barrel Select
1 sugar cube or .5oz simple syrup
2 dashes of Peychauds
1 dashes of Angostura
Rinse of Herbsaint
Rinse glass with Herbsaint. Muddle Peychaud's and bitters with sugar cube. Add Rye and serve over ice. Garnish with a lemon peel.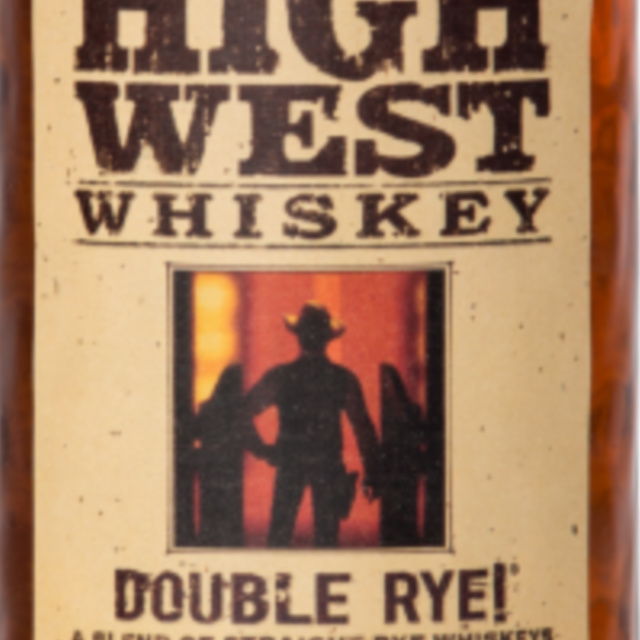 High West Double Rye Barrel Select Rye Whiskey
High West was founded with a spirit of innovation that carries through all of our products, whether in our unique blends or in our very own Valley Tan. We love experimenting with different barrel finishes, which is why we pride ourselves on our Barrel Selects. With our Barrel Selects, each barrel is a uniquely-finished variation of American Prairie Bourbon or Double Rye! Examples of barrels used to finish include Scotch, Pinot Noir, A Midwinter Nights Dram, and Barreled Manhattan, and the finish period ranges from 6 months to more than 2 years. Each barrel can produce anywhere from 275-400 bottles, depending on the length of aging and the type of barrel.
Learn More