If It Ain't Broke…
Changing Things Up in a Market that Doesn't Really Like Change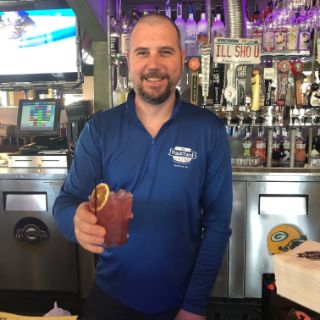 The Backyard Grill & Bar in Fond du Lac hadn't changed their cocktail menu in over 15 years, and Bar Manager, Dylan Wendt, knows since he's been behind the bar for 13 years. But, being one of the most successful restaurants and high-volume bars in Fond du Lac, for a long time, the thought was, if it ain't broke, don't fix it. "People in Fond du Lac like what they like at a good value," says Wendt. Putting a mule on the drink menu or a fancy spritzer probably won't play in Fond du Lac. Or will it?
Last year, Dylan wanted to test that concept by freshening things up with a cocktail menu revamp in hopes to be a trailblazer in the community, "Not many bars in Fond du Lac are doing craft cocktails and I saw it as an opportunity to bring more excitement to our bar." Dylan expressed this interest to his Badger Liquor Sales Rep, Ron Fellers, and Ron suggested that they bring in one of Badger's full-time mixologists, Nick Macaluso, for a consult.
Craft Cocktails for High Volume
How You Can Make It Work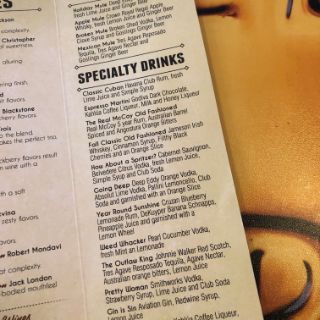 Nick came to the Backyard and looked over the decade-plus old cocktail menu, learned about the Backyard's clientele and what their tastes are. He listened to Dylan regarding how many people they serve in a day. Dylan expressed his concerns, "We are a high-volume bar with not a lot of time to hand-muddle craft cocktails to order. If we are going to do this, the cocktails have to be easily made in a certain amount of time." He went on to say that they have plenty of prep time, so anything that can be prepped in advance can be done with ease.
After the initial consult, Nick went to work and started crafting a cocktail menu that he felt would appeal to The Backyard's clientele. He started out with some seasonal mules based on what affects a Wisconsinite's mood the most: the weather! A Holiday Mule made with Deep Eddy Cranberry Vodka for winter, an Apple Mule for Fall featuring Crown Royal Regal Apple Whiskey, A Broken Mule for Spring that pairs Broken Shed Vodka from New Zealand with Lemon Clove syrup, and a Mexican Mule: the ultimate summer refresher that features Tres Agaves Resposado Tequila. But, if you're not feeling seasonal, you can order any of the mules year round.
Specialty Drinks were next and Nick started with the basics making sure to feature drinks made with rum, whiskey, vodka, scotch, gin and liqueurs. "I wanted to create drinks that would appeal to everyone, no matter what their tastes were. I took a familiar spirit that people love and then added non-traditional elements through flavored spirits, bitters, nectars, and made-in-house syrups that take cocktails to a whole new level."
Sweetening It Up: The Game Changer
It's All In The Prep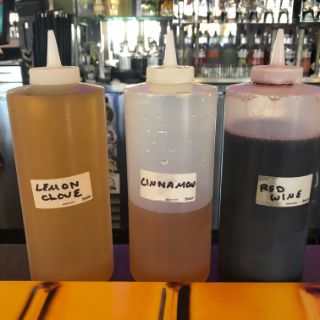 Making flavored syrups in house was the biggest cocktail game changer for the Backyard. They had never made custom syrups before for their cocktails. When Dylan mentioned to Nick that not much time could be taken to create each cocktail, but they had a good amount of prep time, Nick knew that syrups would be the way to go. "Syrups can be made in large batches daily or every other day as needed before the bar even opens. It's the perfect way to add a huge punch of unique flavor with practically no time wasted when actually mixing the cocktail," says Nick. He then gave them recipes for several yummy homemade syrups that could be used in the cocktails: Lemon Clove is featured in the Broken Mule, Strawberry Syrup is used in the Pretty Woman, Redwine Syrup in the Gin is Sin, a Cinnamon Syrup takes the Fall Classic Old Fashioned (their #1 seller) to the next level, and a Simple Syrup is used in several other cocktails to add sweetness without having to muddle one single sugar cube when the bar is three people deep on a Friday night.
"The menu is diverse, but it all comes down to flavor for the consumer and cost for our customer. It is my job to make sure The Backyard sees an increase in cocktail sales and that their customers are enjoying the cocktails," says Nick.
Knowing The Market, Making a Profit, & Training The Staff
Putting It All Together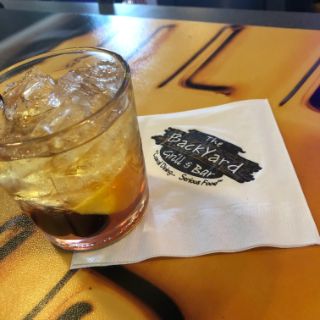 After about two weeks, Nick brought his new cocktail creations to Dylan for review. With a lot of tasting and a bit of editing, the cocktails were decided upon.
But what about cost? You can have amazing craft cocktails, but if it doesn't work with your bar's bottom line, there's no point. Would having this new menu be cost effective? That was certainly one of Dylan's concerns. "Nick gave me a cost breakdown of each cocktail he created breaking down the cost of each and every ingredient. We then priced them according to our market. Each cocktail is sold for around $6, which is priced perfectly for Fond du Lac. If a cocktail is too pricey, people won't try one," says Dylan. "I'm proud that we can offer cocktails that would cost double or triple the price in other markets to our customers."
The next step was training the staff. "When a cocktail menu doesn't change for over a decade, you need to make sure your staff is properly trained to confidently make these cocktails on a busy Saturday night," says Dylan. Nick came in for a staff training to get all of the Backyard's bartenders up to speed. Recipes were handed out, cocktails were created, everyone played around and talked about when and how they would make the syrups and they discussed garnishes. But then the butterflies started to set in for Dylan, "I was a bit intimidated about the training at first. You have this guy who knows his stuff, would my staff be able to catch on quickly? But Nick was so approachable and humble with everyone, he made it easy and left with the entire staff feeling confident and excited."
Seeing & Tasting The Results
Inspired Staff & Happy Customers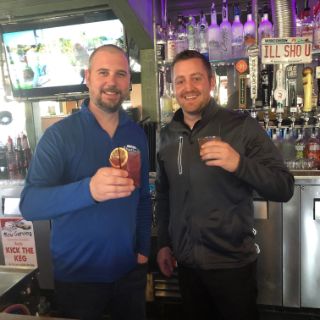 In less than a month, all stemming from Dylan chatting with his sales rep about thinking about creating a new cocktail menu, the Backyard had a completely custom, priced out menu, staff trained up, and the menu was ready to roll out. And from that point on, The Backyard hasn't looked back. They are creating unique craft cocktails for their customers at a price that their clientele is comfortable paying for a hand-crafted drink.
If it can work at one of the busiest bars in Fond du Lac, it can work for you. Oh, and did we mention that this is a FREE service that Badger Liquor provides to our customers? Badger Liquor wants all of our customers to be a success and we want to provide you with the tools to do it.
If you're interested in a mixologist consultation or staff training, please don't hesitate to ask your Sales Rep.
When we got together to interview Nick and Dylan at the Backyard for this blog, Dylan mixed up a How About a Spritzer, a cocktail made with Cabernet Sauvignon, Belvedere Citrus Vodka, Lemon Juice, Simple Syrup and Club Soda. He topped it off with a beautiful dehydrated orange slice. "Did you get a dehydrator, Dude?," Nick asks. "Yeah, man," says Dylan. They both nodded and smiled like two guys on the same page.
Dylan & Nick's Recommendations at The Backyard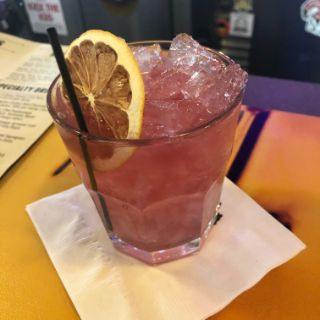 Dylan's Rec: The Gin is Sin is just so good and has been a big surprise, people love it. It's Aviation Gin, Redwine syrup that is made in house and Lemon Juice.
Nick's Rec: The Outlaw King is my favorite. It's Johnnie Walker Red Scotch, Tres Agaves Resposado Tequila, Agave Nectar, Australian Orange Bitters & Lemon Juice.
Nothing there that lights your fire? Check out Badger Liquor's curated list of cocktails. And check back often since we update those just about every month!