Early Start to the Day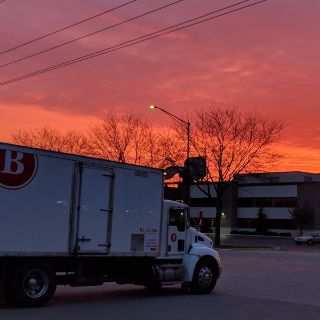 4:45: I'll start with an honest statement: I'm tired, but also optimistic to take a day out of the office to find out what happens on a Badger Liquor route.
5:50: I arrive and meet Dan Smith who has been with the company for 6 years. The truck is already loaded up and ready to go. Dan jokes that he is going to take it easy on me. Thanks, Dan.
6:00: We hit the road, our first stop is just 15 minutes away. I'm excited to meet and gain some insight from our customers.
6:09: I can tell this will be a good day. Dan is full of life and it is still dark out.
6:22: We just left our first stop in Pipe, WI. For the life of me, I don't know how Dan keeps track of all these bottles. Onto the next stop…
6:38 But first, a caffeine fix.
7:09: Welcome to Manitowoc! After an easy drive with Dan, we had an early "stop, drop, and go". You can't help but to be brought up by his energy.
7:25: Another drop off complete. We take some time to move around bottles and organize the truck for the upcoming stops.
7:29: Dan and I realized that we have the same birthday… but I'm much younger than he is. He laughed out loud at that one. We also share the gift of sarcasm… perhaps it's a Virgo trait.
Big Delivery & Things Get Physical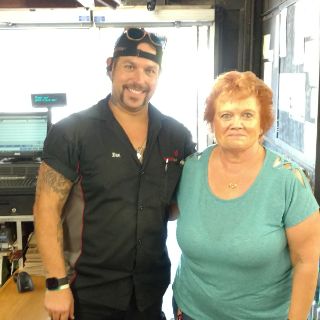 7:45: We have another quick stop.
8:11: A few trips on this drop off. It's now a lot warmer than it was at 5:00am. Dan tells me our next stop is a large liquor store… 115 cases. Oh boy
8:20: We arrive at North Shore Warehouse waiting for the manager to let us in so we can start unloading. Hoping to get some feedback from her. The manager's name is Patsy and she's a really nice lady. Patsy told me Badger does good business and always loves to see her "husband" Dan. They joke together during the unload and Patsy asks Dan about his kids. I was really impressed with the personal connection that our drivers can share with our customers. After all 115 cases are unloaded, Dan runs through the entire order with her to verify and make sure she has everything she ordered. What a guy. On a personal note, I'm sweating and really wish I wore shorts.
9:25: We leave North Shore Liquor with a much lighter load and the ride gets a little more bumpy.
Relationships, Joking Around & Service In Action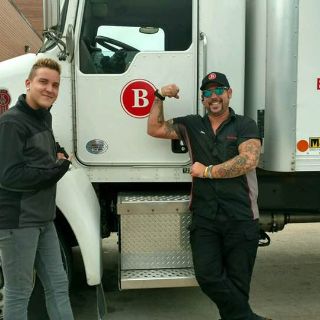 9:36: We picked up a check from an account. I asked how they like working with Badger and Dan and the response was "You guys are awesome."
9:54: A couple more smaller stops that Dan calls "drop and go's" are done and the heat is really starting to creep up, but Dan doesn't seem to mind a bit. I don't care who you are, not everyone can be as chipper as Dan is in the morning, it's not natural. More coffee please. Make that an iced coffee.
10:15: Made a stop at Digger Daves and just in time to lift my mood, there's a dog at the bar. We both give the boy a couple of pets and start unloading. The owner said that they just love Dan and that he's wonderful.
10:22: As we keep unloading, the bumpy ride just gets bumpier. Blogging is hard work in a truck.
10:57: We just finished a few more drop offs. I hate to sound like a broken record, but I'm just so hot… this job is no joke and is very physically demanding. Good thing these guys have 4 day work weeks. My head is spinning at this point, I honestly don't know how Dan keeps everything straight, from the stops, the cases, the bottles, papers, collecting, getting signatures… Wow. There's so much to keep track of.
11:20: Another stop success, I was even offered a job! But, I politely declined. It's really nice to see the relationships Dan has built with our customers. The owner joked that Dan "sucks" with a wink and a laugh shared by all. I can tell that they respect and appreciate the service he provides and like him as a person and a friend.
11:32: I suppose I should step up my work out routine as the manager at 10th Street Pub told me I should get "bigger guns like Dan" so I can be more of a help. I suppose I am starting to slow down a bit, we've been at it since 4:45 this morning. Meanwhile, Dan's energy seems to be limitless. It's kind of annoying.
11:39: The jokes and kudos from our customers about working with Dan continue. This customer just said, "He's an a-hole!" followed by wild laughter. You can see they have a really good time with him and appreciate his humor and energy.
Keeping Up The Pace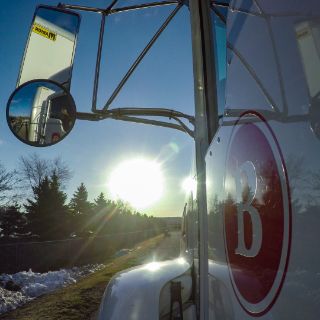 12:09: We got to a customer and seem to be missing a few bottles. Dan explains that there's a process to troubleshoot this. As we continue our day, they may show up on the truck, or we'll have to call customer service and get those bottles on tomorrow's delivery.
12:17: Wow, it's 12:17 already. I should have known from the sounds my stomach was making. We make a stop at El Tequila and they were very happy to get their order as they were completely out of tequila! I can imagine that would be a pretty stressful situation for a business named after tequila to not have any. Another satisfied customer.
12:30: OK, I'm slowing down. Thankfully Dan says we can stop for lunch to gain back a bit of energy, then we have a nice 40 minute drive to the next stop. And, of course, it was a grab and go, (no rest for this guy) we ate our lunch in the truck and chatted the whole time.
1:30: Lunch on the road is done, feeling refreshed and made it to our next location in Sherwood. I feel ready to finish this day strong, but, honestly, I wouldn't mind a quick nap. (As I glare at Dan's smiling face that shows no signs of fatigue).
2:04: Outpost Pub says they are very pleased with Badger Liquor's products and service. I really am impressed with all the positive comments. They don't have to say anything, but it's so great to hear it. P.S. those stairs almost killed me.
2:09: Another stop down… how is Dan still keeping up this pace? Six stops to go. But it's not like I'm counting or anything.
2:17: We located those missing bottles! They were packed a bit further back in the truck. We let the customer know that they'll be delivered tomorrow.
2:28: Four stops to go. Gobbler's Knob says Dan is a great worker. At this point in the day, I can absolutely vouch for that. The guy is all smiles and we've been doing this for 10 hours at this point.
Finishing Up & Fueling Up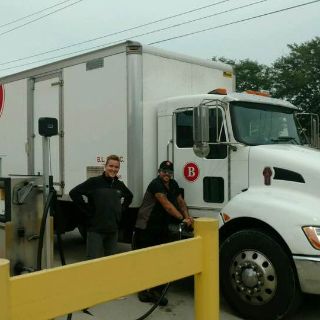 2:58: Two more stops and then we can head back to home base, Badger North in Fond du Lac. The truck is light and it's going to be a bumpy ride.
3:22: We finished all our deliveries and are driving back.
3:45: Arrived. Fueled up the truck and there is definitely a storm coming. Now, a tornado warning. I suppose it's fitting because today felt like a tornado. What a day!
A True Appreciation For What Our Drivers Do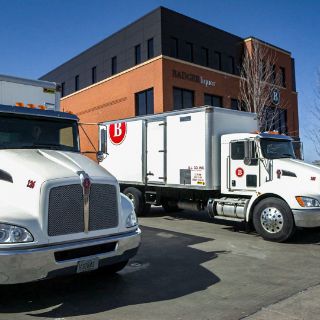 My day with a driver was an awesome, yet exhausting experience. I believe I gained a lot of insight into the company I've already grown to love in my short time here, and especially for the role of the driver and how they are the ambassadors of service for Badger. I'm confident that this experience will make me a better customer service representative. I have respect for everyone I work with, but I've definitely gained a new kind of respect for the drivers. They are at the forefront of what we do, they are who are customers see day in and day out and have the most interaction with. It is not an easy job. It's extremely physically demanding and also mentally. All the deliveries, bottles, cases, RMA's, stops, cash, checks, personalities, and paperwork they have to deal with is mind-boggling. It's so important to the company that they do their jobs well, but most importantly, it's for our customers. Thank you for taking me along Dan. Next time, don't call me, I'll call you.