Description

Don Julio Anejo: Insuperable success of a special life. Don Julio was born in a Tequila factory. At the age of seventeen he opened his own distillery. The culminating point of his career, his mature work, is this Tequila that takes his name.Beverage Testing Institute: RATED: 90 points (Exceptional) - Light yellow with a pale gold cast. Perfume, citrus, sweet herbal, and butterscotch nose. Soft, easy texture. Medium body. Very tangy, nearly juicy (candied orange) palate with good presence and mouthfeel. Bright, racy, and nicely spiced. Has a salty edge into the finish.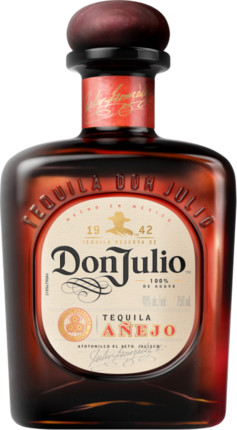 About This Product
Available Sizes

1.75 L, 375 ML, 750 ML

Proof

80

Type

Tequila

THIS IS A LIMITED AVAILABILITY ITEM. OUR SYSTEM DOES NOT ALLOW TRACKING OF THIS PRODUCT. HOWEVER, WE KNOW YOU'LL FIND SOMETHING YOU'LL LOVE IN OUR PRODUCT PORTFOLIO. CHEERS!